Hello! How are you? I am really happy I can give you the this new Coloring Page of a Squirrel and of course the 6th blog story.
As you may remember, I posted a poll on social Media so you could vote for the next coloring page animal, and the squirrel has won! That's why I made a free coloring page of a squirrel.
If you would follow my facebook page, you can stay up to date about the progress on a new illustration. And of course, you will be the first to know when I share the next coloring page printable!
Let's get back to the story of Lisa and her dog Bobby and the Free coloring page of a Squirrel.
Bobby has run away from Lisa. She went looking for him. First she met an owl that could talk, after this special encounter she ran into a fox that showed her a hidden path, next a mermaid talked to her and told her to follow the old hidden path and that all the animals of the forest her help her find Bobby.
Lisa continued on the old hidden path. She had no idea where this path would go, because she had never been to this part of the forest.
Lisa was thinking of what the mermaid had said about the animals helping her. She wondered if more animal might talk to her like the owl, but that seemed unlikely to her.
The old pad continued through the trees and shrubs and she enjoyed the walk.
Suddenly she came to a fork in the road and she had to choose between two paths. One to the left and one to the right. Lisa looked at both paths and had no idea which one to choose. "Oh no! They both look alike, what path shall I take?" She thought.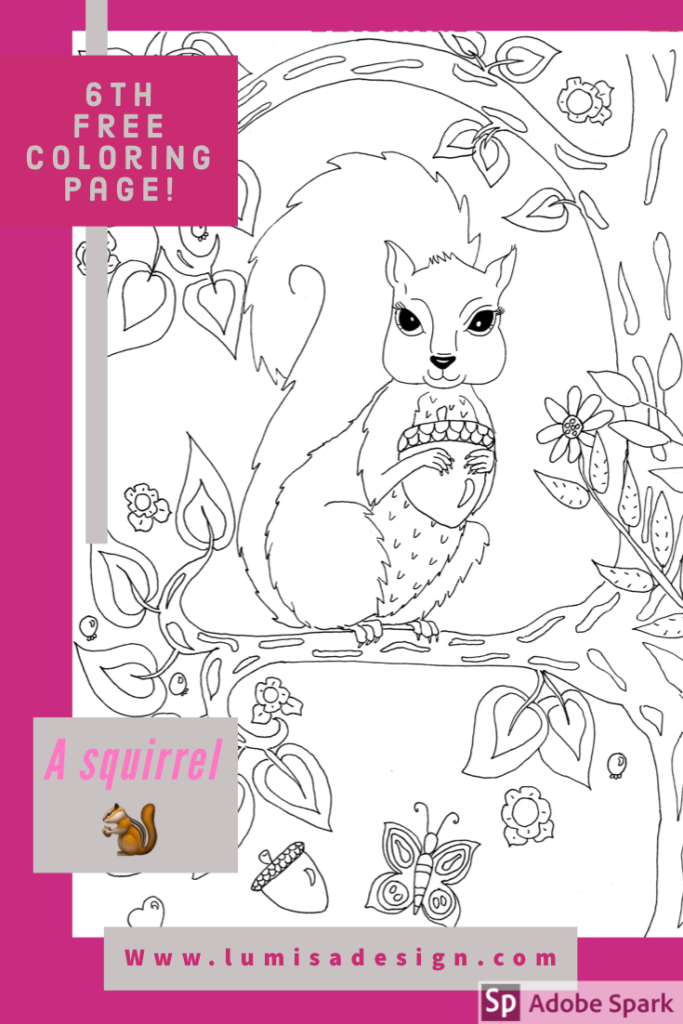 Lisa heard something move in the bushes and looked around, but could find nothing.
Then she decided to take the right path when she heard another sound. She stopped and looked around again. The sound seemed to come from a tree and she looked up.
There it was again! It was a squirrel eating a acorn, that makes the noise. When he saw Lisa looking at him, he stopped and leaned forward as if he wanted to take a closer look at her. Lisa looked up at him and smiled. The squirrel sprang up and ran along a branch to another tree. Then he looked to see if she was looking, when he saw she did, he jumped to the next tree. Lisa couldn't see him anymore so she walked down the right path to see if she could find him again.
There he was in a large pine tree! As soon as he noticed her, her ran down a large branch and hopped to the next one. Lisa followed him again, until she noticed she had already walked halfway down the right path. She remember what the mermaid said about the animals helping her and she was certain the squirrel had shown her the right path.
Alright friends! This is the story I made up for the sixth free coloring page of a squirrel. I have to admit I can hardly wait to share the next one! Please tell me what you think of the coloring book story I am sharing with you.
Don't forget: Have fun coloring this 6th page! I would really love to see your version of it. I hope to share the next page in about 5 days! And share below what you think of the new animal Lisa has met in her search or Bobby!
Click this link to download the fifth Free coloring page of a squirrel!
Thank you for reading and take care! Sanna.
This is the link to the first blog about Lisa and Bobby.