Hello! how are you? I am so glad I can give you the 4th blog story, with this cute fox coloring page printable!
My youngest son had his eight birthday this week, and I wanted to do something special because of this! That is why I used his favorite animal for the next page for the cute fox coloring page printable. Today I will share it with you along with the next story!
I would really love it, if you would follow my facebook page, so you stay up to date about the progress on a new illustration. And of course, you will be the first to know when I share the next coloring page printable!
Let's get back to the story of Lisa and her dog Bobby and the cute fox coloring page.
Bobby has run away from Lisa. Because the leash snapped he has disappeared in the woods. Lisa went looking for him, and met an owl that could talk! He told her she had to find him and that she had to go to the old pond.
Lisa walked in the direction of the pond. The path winds through the forest and she encounters nobody. She knew she had to walk a little further down this path before she would be at the old pond.
Suddenly Lisa saw something move between the bushes. She stopped walking and waited to see what animal would appear from behind the bushes. She saw a big orange tail with a white tip at the end. Then the animal crossed the path. It was a cute orange Fox.
She smiled and walked along, thinking how lucky she was she came across this beautiful fox.
Lisa walked further along the winding path and after the next turn she saw the fox again! He was just sitting next to path and when she approached him, he didn't run away. It seemed he waited for her to walk up to him.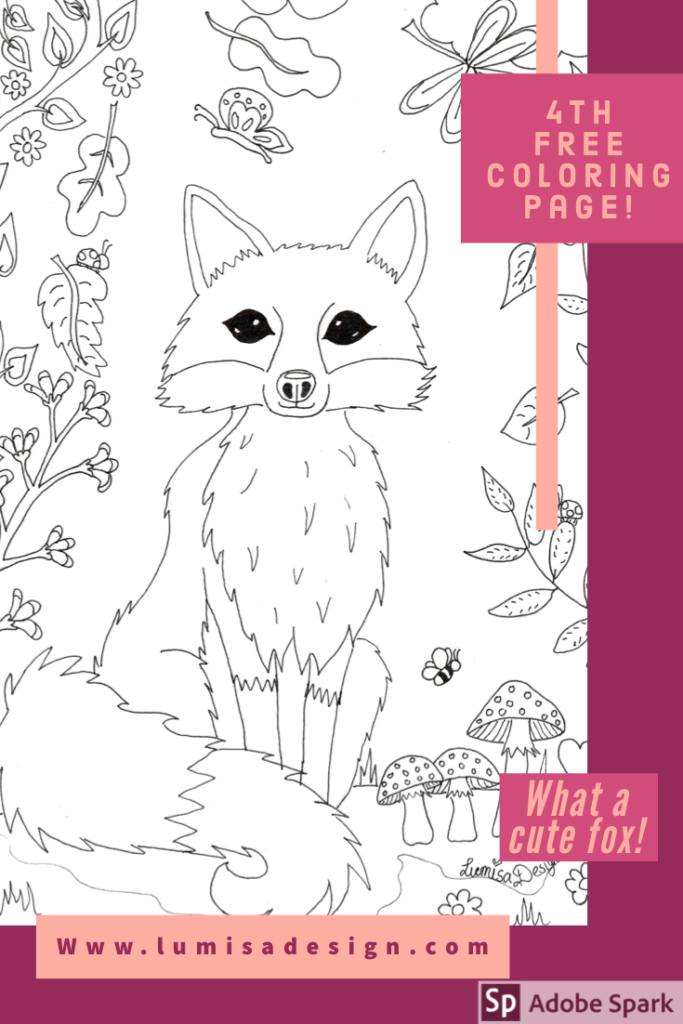 Lisa walked toward him and the fox rose and walked with her. Together they walked the path to the pond.
Suddenly Lisa noticed that the fox was no longer running next next to her. Where did he go? She turned around and found him sitting next to the road, as if he was waiting for her to walk back to him. Lisa walked back to where the fox was. Suddenly he turned around and disappeared into the bushes. Lisa went after hem, and when she pulled away some branches, she realised she discovered a new path, one she had never seen before! Lisa was sure the fox wanted her to follow this path and she decided to walk through.
Alright friends! This is the story I made up for the fourth free fox coloring page. I have to admit I can hardly wait to share the next one! Please tell me what you think of the coloring book story I am sharing with you.
Don't forget: Have fun coloring this fourth page! I would really love to see your version of it. I hope to share the next page in about 5 days! And share below what you think of the new animal Lisa has met in her search or Bobby!
Click this link to download the fourth cute Fox coloring page !
Thank you for reading and take care! Sanna.
I used the design of the fox on different products such as these adorable women fox shirts
But also for really soft fox fleece blankets!
This is the link to the first blog about Lisa and Bobby.