Happy Thursday! I hope I find you all well. This is a blog about my free coloring page!
It has been a busy and a bit of a chaotic week here. On Friday last week, the gouvernement of the Netherlands decided the schools should be closed on Monday and they were debating about this the whole weekend. On Sunday afternoon they agreed and schools were closed. Since then we are homeschooling and trying to get used to this new life.
Having the kids around me all day is a blessing. But it is exhausting as well, because I hardly have time for myself or are able to be alone. I love my two boys and I love how funny, creative and energetic they are. But I love working on my store, my alone time and the silence around me sometimes too. I know I am blessed to be able to be at home and take care of my children, but a momma needs some time for herself from time to time.
Since the Corona virus is spread around the whole world, I realised there are a lot more parents in this situation. Everyone is doing their best to help each other and that was when got my idea: A free coloring page for all the kids and momma's out there, so they have a new fun and creativity activity to do.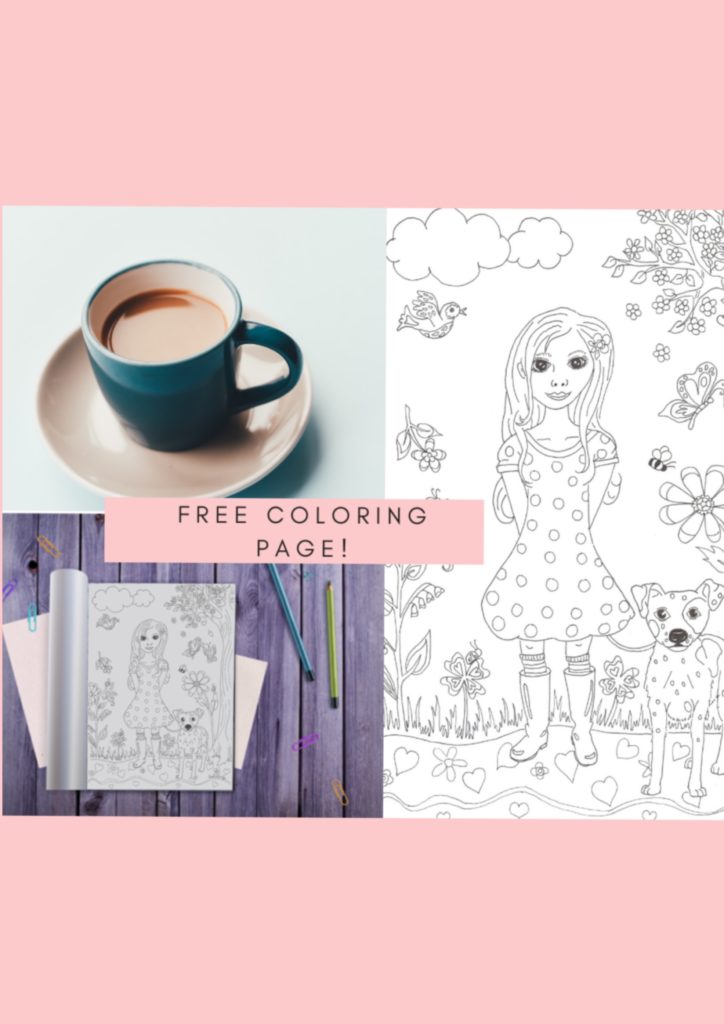 4 years ago I started making coloring pages. I wanted to make them into a book, but I didn't want it to be just all kinds of different pages, I wanted it to be a story! I thought up a story about a girl named Lisa and her dog Bobby. She is walking with him to the woods so he could play and run. That's when their adventure will start!
I turned the original drawing into a PDF file for you so you can download and print the first free coloring page. This is the page where you will meet Lisa and her dog Bobby. They are ready to head off to the woods for their walk. It's a beautiful day , the sun is shining and they are both really happy.
"Come Bobby" Lisa says to her dog. "let's go!" And off they go. It's a lovely day and she looks at the all trees: It's only just May and they all have beautiful leaves, in all kinds of different shades of green. All around her, she can see flowers growing. Pink flowers, blue and yellow flowers and the cutest white ones too. Lisa and Bobby decide to go left on a smaller road that will lead to a pond. Lisa loves the pond, because someone told her a mermaid lives there, and Lisa would love to see if this is true..
This is the first part of the story about Lisa and Bobby. Do you want to know how it will go on? Follow me on https://www.facebook.com/lumisadesign and you will know when I post the next free coloring page. Due to the homeschooling of my sons, I can't plan far ahead, but I plan to post the next one in 5 days!
Have fun coloring and please share the colored pages on facebook and tag lumisadesign in it! I would love to see yours. Please share below how you like the story.
Click this link to download the free coloring page!
Thanks for reading and take care! Sanna
This is the link to my Shop