Hello! I hope you are well! I am so glad I can give you the 5th blog story, with this beautiful Free Mermaid Coloring Page!
For this next part of the story I decided to use this beautiful free mermaid coloring page. I have always loved these magical creatures and am glad I can share her today with you. I hope You love her as much as I do!
If you would follow my facebook page, you can stay up to date about the progress on a new illustration. And of course, you will be the first to know when I share the next coloring page printable!
Let's get back to the story of Lisa and her dog Bobby and the Free Mermaid coloring page.
Bobby has run away from Lisa. She went looking for him, and met an owl that could talk and after this special encounter she ran into a fox that showed her a hidden path!
Lisa continued on the new path. She was almost certain that she was still walking toward the pond.
Then Lisa saw the pond sparkling through the trees. The sun was shining on the surface of the water making it look so beautiful, almost magical!
She smiled at the beautiful view, and continued on her way
When she reached the small pond she could see small fishes swimming under the surface. Lisa walked around the pond, not knowing where to go next, then she paused when she saw bubbles in the water. "That's a big fish!" She thought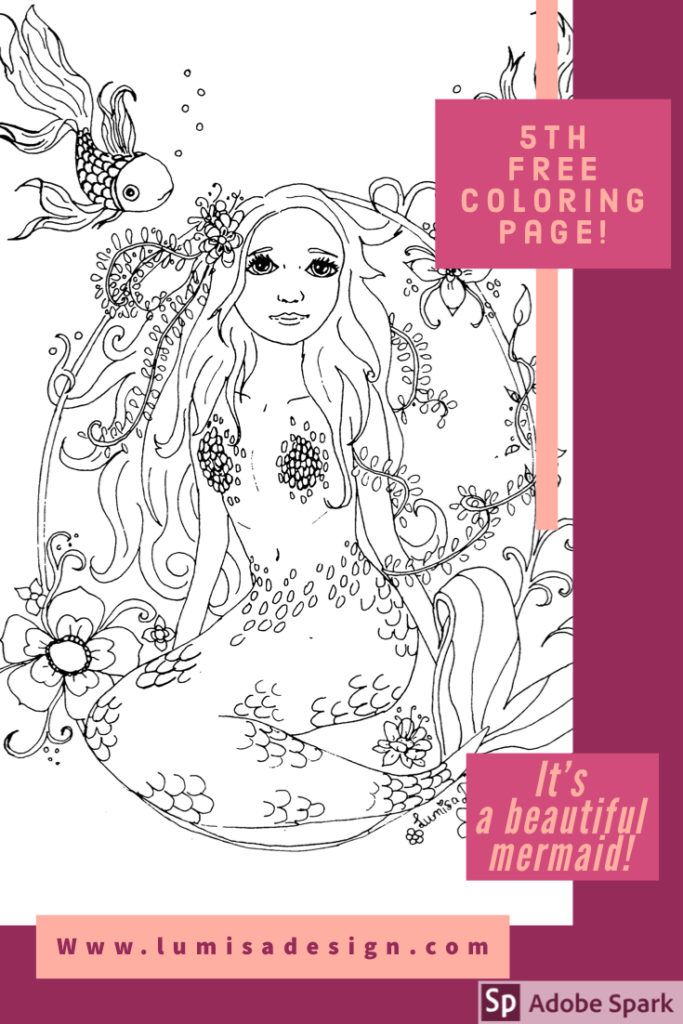 Then a large tail surfaced, which then disappeared under the water again. Lisa didn't know what she had seen. "What kind of fish is that?"
Now the mermaid surfaced and swam towards her. Her long hair floated over the water surface and she was really pretty. Lisa suddenly noticed that the birds were no longer singing and it had become completely silent in the forest.
The mermaid smiled and spoke: "Hello Lisa, I want to help you find your dog. Do you know the path you have been following has been hidden for a long time?" Lisa was very impressed by the beautiful mermaid and she was a little bit afraid to answer. The mermaids green eyes looked at her very friendly and she smiled at Lisa and continued: "You don't have to be afraid, Lisa." She moved a little closer. "I just want to help you. Follow the old hidden path you just discovered and all the animals of the forest will try and help you find your dog."
The mermaid turned and dived underwater again. When she surfaced again she waved and said: "Good luck Lisa!" Lisa waved back and said: "Thank you!" and continued on the old hidden road.
Alright friends! This is the story I made up for the fifth free mermaid coloring page. I have to admit I can hardly wait to share the next one! Please tell me what you think of the coloring book story I am sharing with you.
Don't forget: Have fun coloring this fifth page! I would really love to see your version of it. I hope to share the next page in about 5 days! And share below what you think of the new animal Lisa has met in her search or Bobby!
Click this link to download the fifth Free Mermaid coloring page!
Thank you for reading and take care! Sanna.
This is the link to the first blog about Lisa and Bobby.