Welcome back to my blog! I am excited to share my latest blog with you with the Free Raccoon Colouring Page to print.
As you may remember, I posted a poll on Social Media so you could vote for the next coloring page animal, and I am so sorry for the Unicorn lovers, because this time the raccoon won the vote! So today I share with you the free racoon colouring page to print.
If you follow my facebook page, you can stay up to date about the progress on a new illustration. And of course, you will be the first to know when I share the next coloring page printable!
Let's get back to the story of Lisa and her dog Bobby and the Raccoon colouring page to print.
Bobby has run away from Lisa and she went after him. First she met an owl that could talk, after this special encounter she ran into a fox that showed her a hidden path, at the pond she met a mermaid that told her to follow the old hidden path and that all the animals of the forest her help her find Bobby. At a fork in the road an adorable squirrel showed her which way to go.
Lisa continued on the path and then ends up in a clearing. The clearing was full of flowers and butterflies and bees fluttered around it. She looked around to find the continuation of the path.
A butterfly landed on her hair and she wondered if it would help her find her way. But when she tried to talk to it, it flew away. Lisa decided to walk after the butterfly, but it only flew from flower to flower.
"I'm afraid this butterfly won't show me the way." She said to herself and she stopped again to look around. Suddenly she saw a beautiful large butterfly fluttering towards her. Then he turned and flew away from her.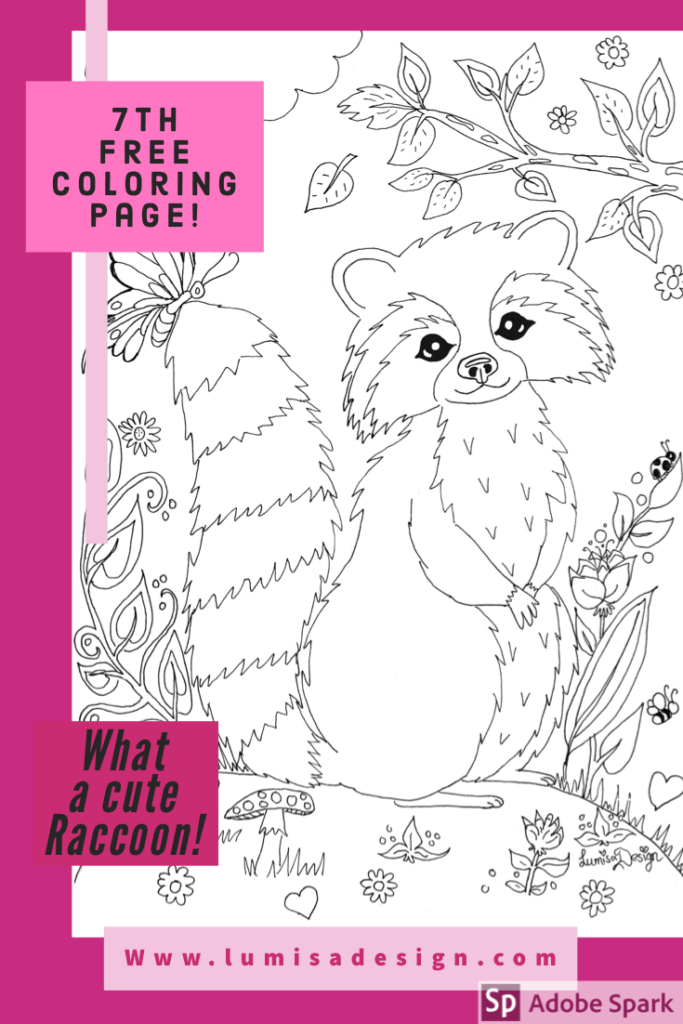 Lisa knew she had to follow him and she ran after the beautiful insect. She saw him flutter down and for a moment she saw him no longer.
Until she saw him again, sitting on a raccoon's tail! Lisa stopped immediately and looked at the cute animal in amazement. It looked as if the raccoon smiled at her. Then he turned and went toward the trees, the butterfly still on his tail. Lisa followed quietly, because she was sure that was meant to be.
When she approached the trees, she heard water flowing: a narrow stream ran through the trees. The raccoon sat down by the water and Lisa understood she could now continue her journey on her own. Across the stream she suddenly heard a bark. Was that Bobby barking?
Alright friends! This is the story I made up for the this Raccoon colouring page. I have to admit I can hardly wait to share the next one! Please tell me what you think of the coloring book story I am sharing with you.
Don't forget: Have fun coloring this 7th page! I would really love to see your version of it. I hope to share the next page in about 5 days! And share below what you think of the new animal Lisa has met in her search or Bobby!
Click this link to download the fifth Free Raccoon colouring page!
Thank you for reading and take care! Sanna.
This is the link to the first blog about Lisa and Bobby.