In these serious times with the virus spreading around, I still want to share my blog with you, my friends. I don't want it about a serious topic, but with everybody running around to shop for their grocery's I thought I could write something about my two favorite bags.
I have have a lot of bags, but I have two favorite bags, you too? One is a soft pink one, I always take with me, when we are going away for a whole day or longer. The second is a very cute blue one, that's a bit smaller.
For some reason I have collected lot of bags the past couple of years. I have two shoulder bags made with a cows skin, multiple smaller ones I hardly use. Several big shoulder bags that are too big, and two or three I totally fall in love with in the store, but I never use. You could say I have a soft spot for shoulder bags.
But the last couple of months I can say I have two favorites: The soft pink one and the Blue one. If I tell you pink and blue are my favorite colors, you won't be surprised I picked these bags, right?
Both are my favorites because of the color, the sizes and I can carry them crossover.
I have fibromyalgia and some days I have a lot of pain in my shoulders and neck, and this way I can carry my bags with less pain. Although I can carry my pink one on one shoulder too. 
I guess you would love to see these bags now, right? I have put in to pictures of me with my favorite bags.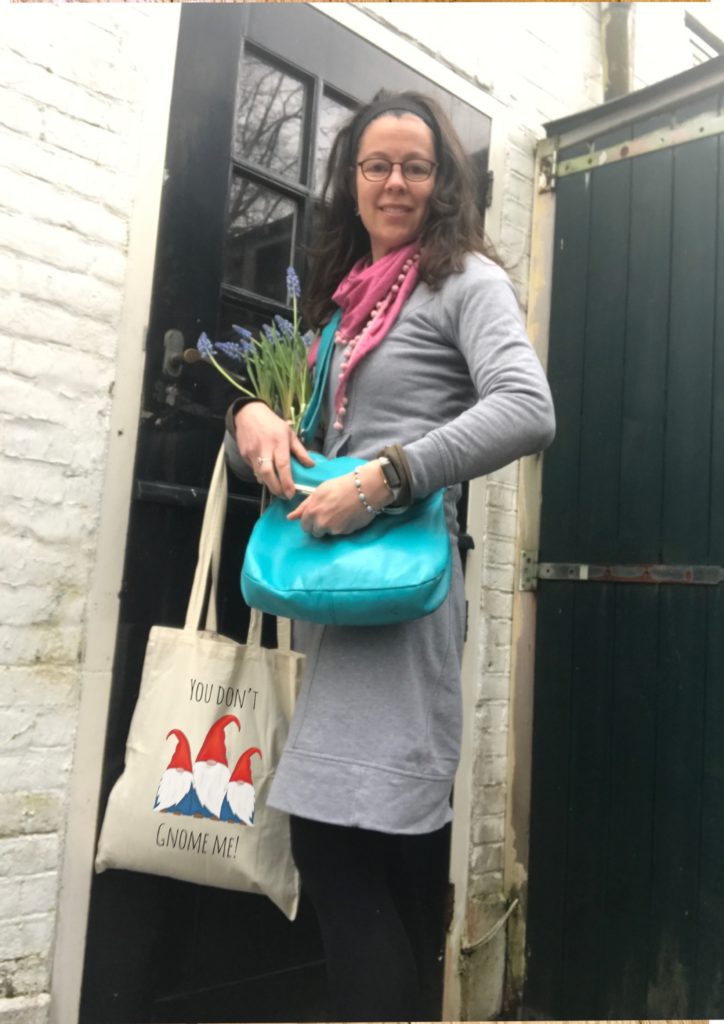 The blue one is special because of the way it closes and of the inside and outside color.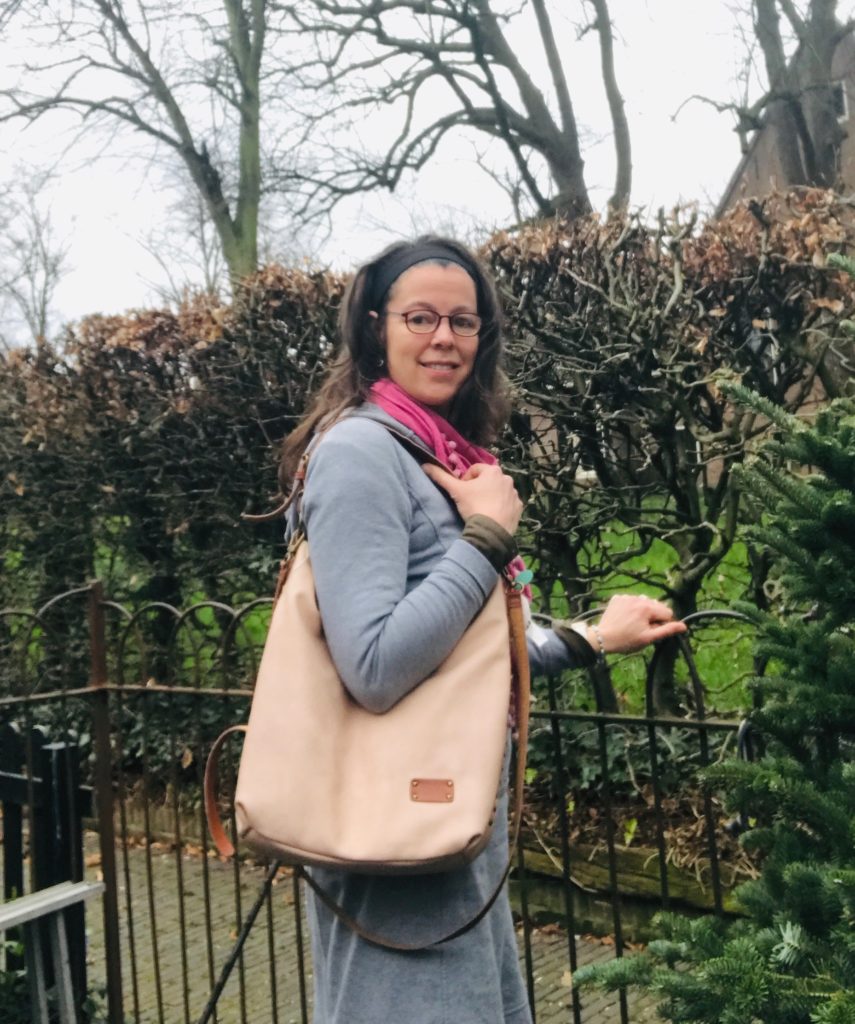 The Pink one is a really practical bag that can hold a lot of stuff. As a mom, you all know, I carry around a lot of stuff.
Do you have the same problem as i do? I carry to much things with me. Some tissues, cookies and a water bottle. My wallet (with a unicorn print!) a pen and one or to foldable tote bags for my groceries and of course hand cream. Next to that a lot of other not so useful things and often even some small toys! Every time my husband takes my bag, he asks me what I am carrying with me, because it is so heavy! Do you ladies get that same question from your husband or friend?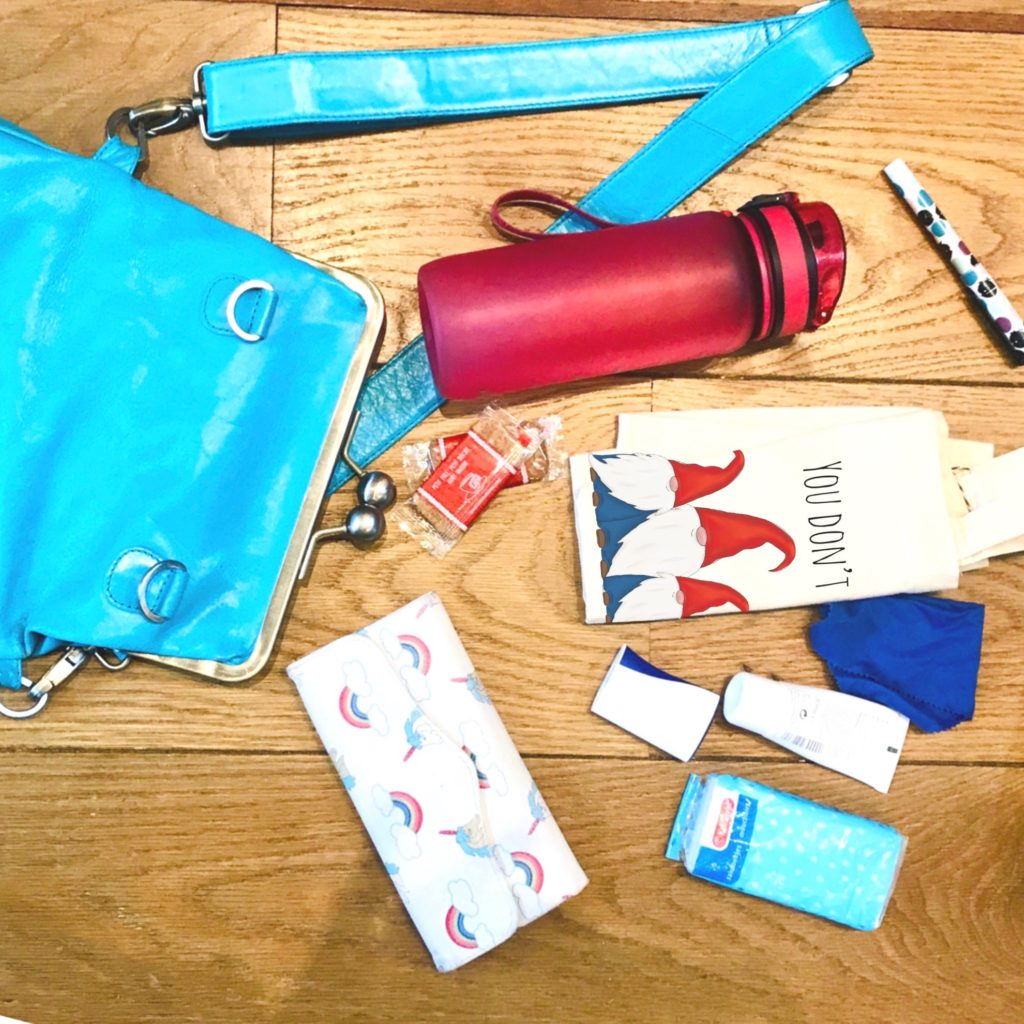 Every now and then I try to clean out my purse and take out all of the things I don't use. Here's a pic of how it looks after that. Nice and tidy, right? I am really curious how long it will take until I my bag is filled with other things again.
Are you the same with your bags, or do you have a very tidy bag or maybe don't use a bag at all? Share your story in the comments please. I would love read it. Well, I hope you liked this blog about my bags and if you are wondering how to get that cute gnome bag, you can find it Here